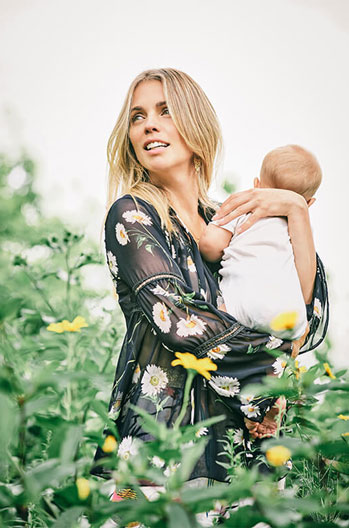 In parallel to her acting career, Jacynthe René has been leading a series of powerful and innovative social projects since 2007. Her first project was the foundation of an alternative elementary school, followed by a permaculture project. Eager to share the promising principles she is experimenting with in education and agriculture, but also in natural beauty and life-giving food, she launched a web platform with her partner in 2013 with the sole purpose of spreading life-changing inspirations. This was followed, at the end of 2014, by an online store that lists her 4 natural fetish preparations for skin and home, used since her first pregnancy.
Always with this intention to offer a lifestyle that makes a difference, she publishes six books, which have become bestsellers, magazines and guides to beauty and well-being. She produces a documentary as well as a series of programs reaching an average of 250k viewers in 2017-2018, with peaks of over 440k viewers, which is remarkable in Quebec.
Exceptional, innovative, scientific key people on the path to the middle are gathering around its platforms to broadcast other meaningful health opportunities.
Maison Jacynthe is now a brand that stands out for its rich and engaging content that touches and improves the lives of its subscribers.
Mainstream media, from Women's Health in Spain to the New York Times in the U.S., are highlighting the startup's achievements, while customers and influencers around the world are praising and adopting the lines. An impressive and engaged community is growing by the day, each embracing in their own way the healthy and natural lifestyle that Maison Jacynthe offers.
To get closer to this community, 10 houses with boutiques, beauty salons and bistros/restaurants have been created, allowing people to experience all the activities proposed, with the family remaining at the heart of the adventure.
The purchase of farmland to cultivate its raw materials completes the beautiful story. A beauty barn was built to house the laboratory for the beauty formulas, all developed cold, with time and respect for the noblest virgin and pure materials: the values of the company open the doors to the most sought-after and coveted essential oils, shared by the most prestigious houses. At Maison Jacynthe, no synthetic materials are added. Each jar therefore contains the most wonderful, sumptuous and formidable concentrates of active ingredients to be applied.
When the pandemic was announced in Quebec, in the blink of an eye and before any governmental decision, Jacynthe & Sylvain decided to close their house to protect their team (more than a hundred enthusiasts) and their guests. Jacynthe's impulse was to meet up live 3 to 4 times a day on her networks, for hours at a time, to be present for the lonely, isolated, and to accompany people in this crisis. During the first deconfinement, the faithful listeners mentioned their fear to see these "live" stop. And so, since March 10, 2020, every day, Jacynthe, with a guest or alone, talks to them, listens to them, accompanies them.
January 2021, the Addicts page is created to see the birth and growth of an international community, caring, positive, incomparable, of exceptional quality, educated, autonomous and emancipated.
Today, MJ offers skincare, makeup, superfoods, home essentials and ingredients/dishes for meaningful cooking. Everything is formulated with the same principles: the formulators have carte blanche and access to the best ingredients. All are surprised to mention that in over 35 years of career, they have never had this freedom. Thus, we find the cream of the crop, made in Quebec, except for makeup made in Italy where the expertise remains. Customers know the difference and their confidence in Maison Jacynthe is constantly nourished and renewed.
Maison Jacynthe welcomes its customers and takes care of their total well-being. Unlike traditional retailers, Maison Jacynthe evokes the warmth and comfort of a place where one finds family, where one receives guests and offers them culture and education even before food and care. The mission at the heart of the company promotes total care, right down to the state of mind, and then comes the right life choices. And unanimously, a positive wheel is set in motion.