Express counter: preparation of your order and express delivery to your home.
You can prepare an order with our colorful and gourmet salads, juices & others and add the products you wish to receive in express (novelties, your beauty products, jewelry, your apothecaries, super foods and supplements).
This service and express delivery cost $12.50. The boxes are refrigerated and leave from home: in the kitchen, your food is prepared, then a consultant takes over and navigates the store to complete your order; the Loomis delivery service comes to the appointment and delivers your personalized box to your door.
"Concierge service": if you need help finding the right care for your budget, write to us here or you can call the MJ house nearest you here.
Customize your own box by choosing from the following menu:
---
Bulk vegetables (825 g) - $ 30.50 TX Incl.
My bulk, 11 to 13 vegetables and 3 types of shoots for the equivalent of 5 salads!
Vegetables may vary depending on availability.
(Organic carrot, organic sweet potato, organic broccoli, organic cauliflower, organic bok choy, organic beet, organic celeriac, organic kale, organic red cabbage, organic Brussels sprouts, organic celery, organic peas, organic Brussels sprouts, organic celery, organic snow peas, organic fennel, various sprouts)
Classic vinaigrette
(Dynamic organic olive oil, apple cider vinegar, miso damari, maple syrup)
350 ml (available with Pepito's shaker) - $16.00 + TX
Creamy old-fashioned vinaigrette
(Almond butter, filtered water, olive oil, Meaux mustard, vinegar, maple syrup)
350 ml bottle - $10.00 + TX
Mediterranean Balsamic Vinaigrette 
(Olive oil, Kalamata olives, balsamic vinegar, dried tomatoes)
350 ml bottle - $12.00 + TX
Thai sauce
(Water, sesame oil, Damari, cider vinegar, tomato puree, onions, maple syrup, tomato paste, smoked paprika, fresh ginger, garlic)
350 ml bottle - $7.00 + TX
Chili
(Black beans, tomato paste, celery, onions, corn kernels, red peppers, maple syrup, chili powder, jalapenos, ground coriander, ground cumin, ground ginger, cayenne pepper, olive oil, salt, pepper, wild rice and quinoa)
450 g serving size - $9.50 + TX
Cold soup: yellow beets and ginger
(Yellow beets, water, coconut milk, onions, cashew nuts, fresh ginger, salt, pepper, olive oil)
 Serving size 450 g - $7.50 + TX
Cauliflower and sesame soup
(Cauliflower, onions, potatoes, garlic, water, soy milk, nutmeg, sesame oil, olive oil, salt and pepper)
Serving size 450 g - $7.70 + TX
Velvety of Mushrooms
(Mushrooms, potatoes, vegetable broth, celery, onions, soy milk, garlic, cumin, cloves, bay leaves, olive oil, salt and pepper)
Serving size 450 g - $7.99 + TX
Spinach and kale soup
(Potatoes, onions, spinach, peel stock, kale, basil puree, garlic, olive oil, salt and pepper)
Serving size 450 g - $7.70 + TX
Carrot and orange soup
(Carrots, onions, potatoes, peel broth, oranges, soy milk, garlic, salt and pepper)
 Serving size 450 g - $7.70 + TX
Minestrone
(Carrots, celery, onions, sweet potatoes, leeks, garlic, tomato puree, white beans, black beans, chili powder, cumin, smoked paprika, cayenne, cloves, bay leaves, fresh parsley, basil, olive oil)
Serving size 450 g - $7.99 + TX
Corn Chowder
(Onions, corn, fennel, red peppers, vegetable broth, quinoa, soy milk, garlic, bay leaves, olive oil, salt and pepper)
Serving size 450 g - $6.99 + TX
Veggie Burger
(Black beans, button mushroom, shredded red beet, cooked wild rice, shredded potato, almond flour, chopped onions, cooked quinoa, tomato paste, olive oil, salt, onion powder, garlic powder, ground ginger and ground cinnamon)
Veggie Meatball to Go - $6.25 + TX
Orange Hummus
(Sweet potatoes, water, chickpeas, onions, sunflower butter, olive oil, cider vinegar, garlic, thyme, salt, pepper)
250 g serving - $4.25 + TX
Tonic yellow
(Oragnic ginger root, organic turmeric root, organic pineapple, organic lemon and organic cayenne pepper)
250 ml - $ 11.00 + TX
The Shield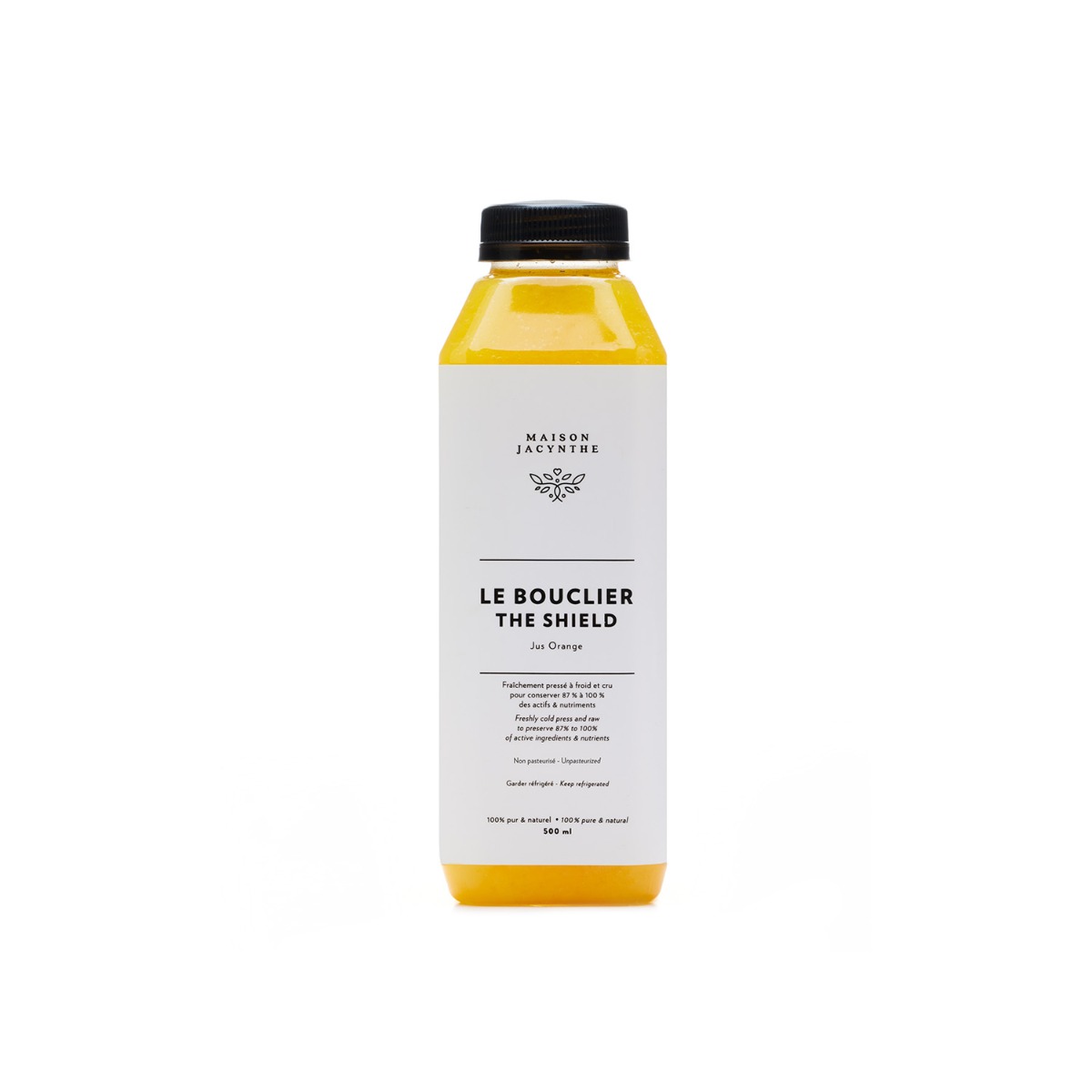 (Freshly cold pressed and raw organic oranges to retain 87% to 100% of the active ingredients & nutrients)
500 ml - $ 10.50 + TX
Green juice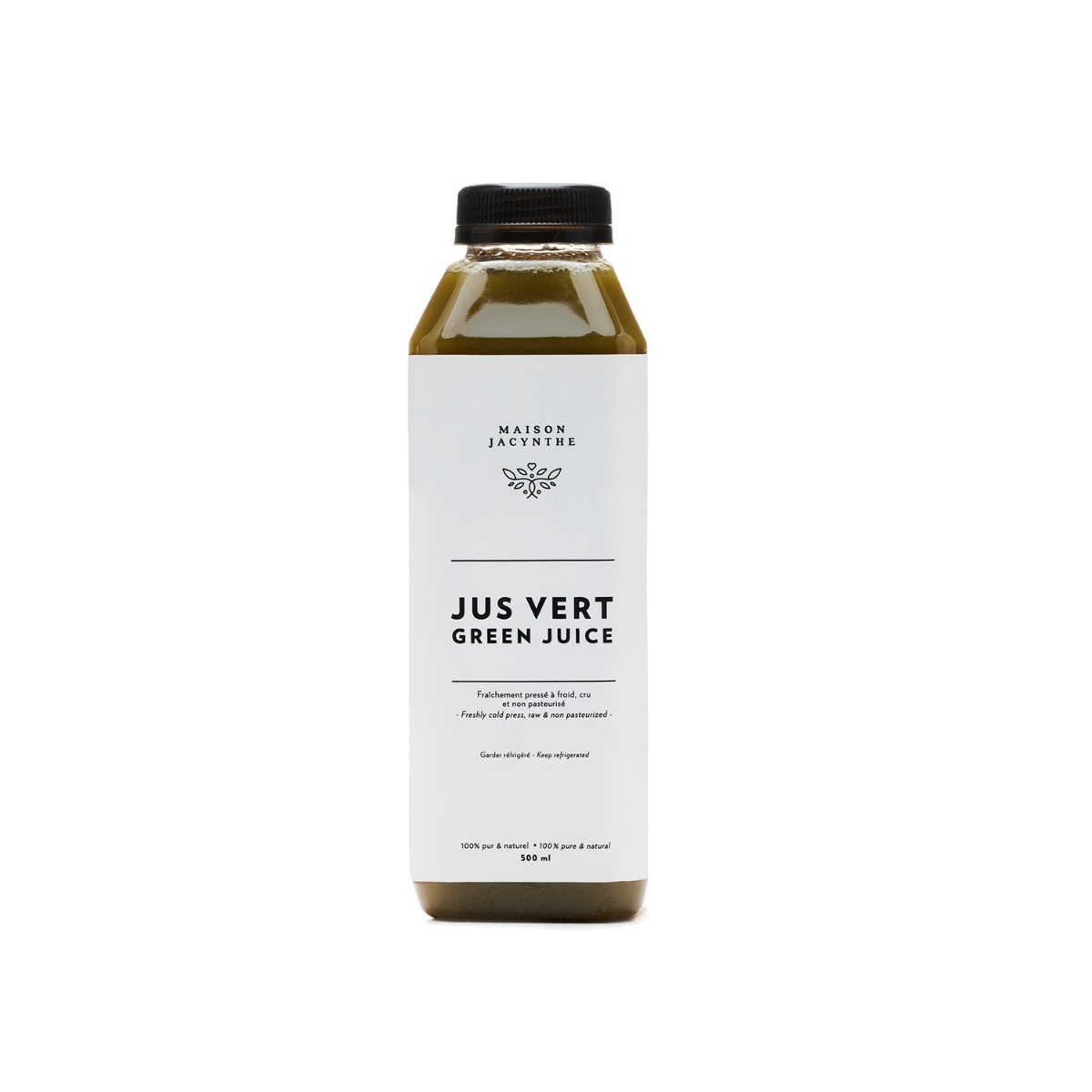 (Organic kale, Organic celery, Organic cucumber, Organic apple, Organic lemon, Organic ginger)
500 ml - $ 9.50 + TX
The red juice, Alkaline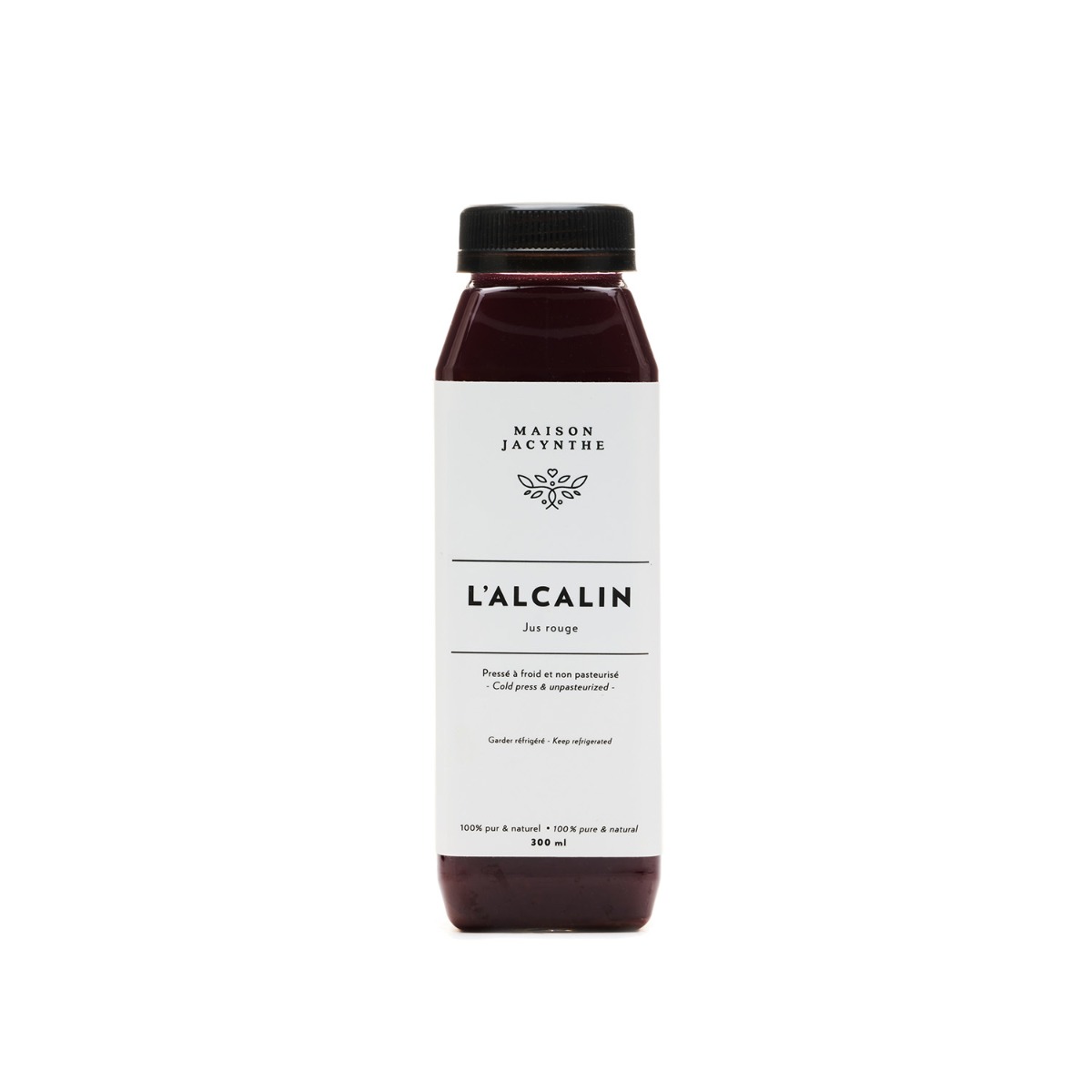 (Organic beet, Organic apple, Organic carrot, Organic ginger, Organic parsley, Organic turmeric root, Organic lemon, Organic cayenne powder)
300 ml - $ 9.50 + TX
Le Bêta
(Organic Tomatoes, Organic Sea Buckthorn, Organic Carrots, Organic Grapefruit, Organic Apple, Organic Lemon, Organic Ginger)
300 ml - $9.00 + TX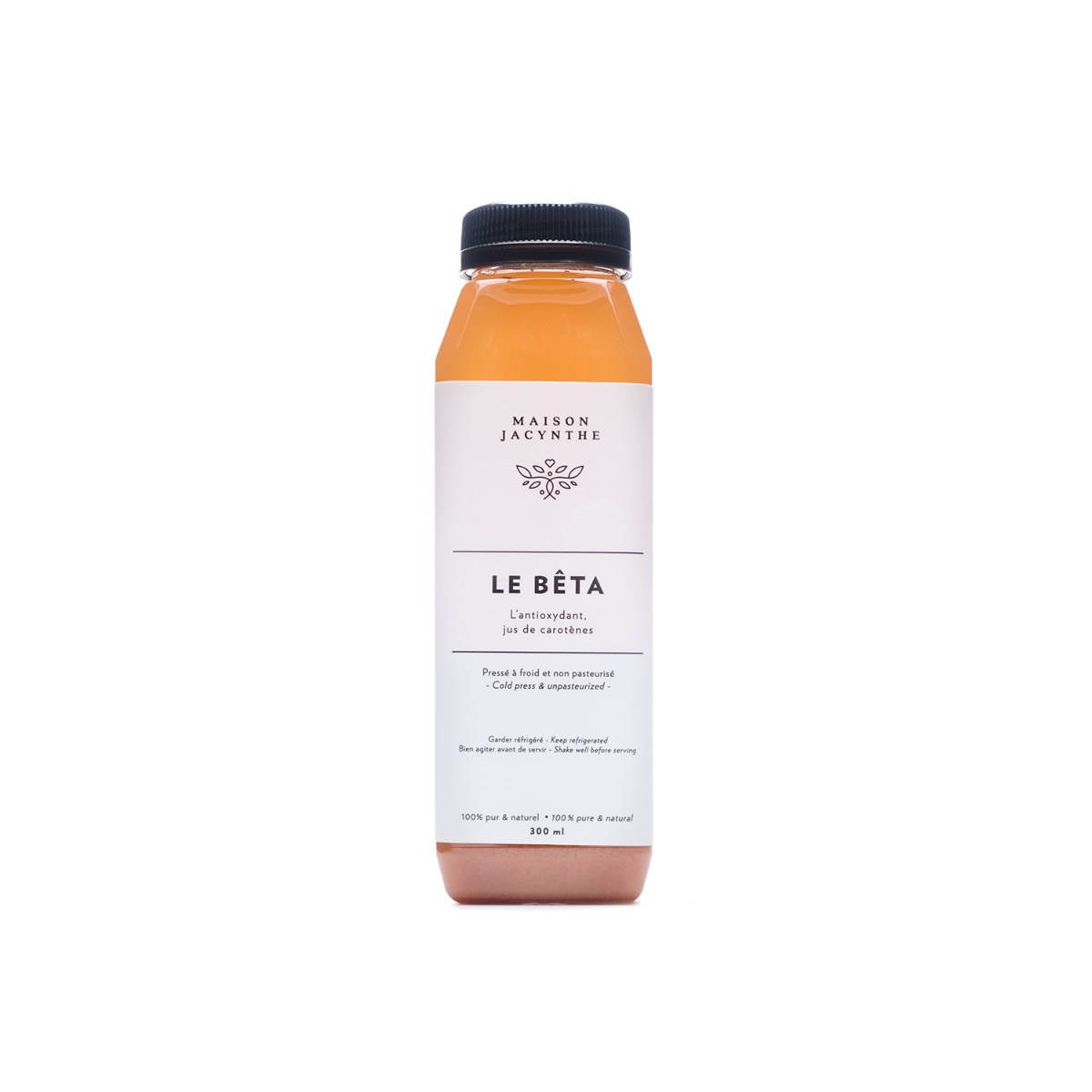 Energy balls
(Dates, apricots, coconut butter, cocoa, maca, carob, maple syrup, shredded coconut, cherry juice)
2 Energy Balls - $3.00 + TX
Meal bar
(Cashews, pecans, almonds, black beans, maple syrup, dates, carob, cocoa, chia seeds, coconut oil, The Complet (Spirulina, chlorella, citrus bioflavonoids, acerola, papaya, elderberry, wheatgrass, sunflower, watercress, celery), Essential Fiber (Psyllium, hibiscus sabdariffa flower, slippery elm bark powder, beet fiber), lemon essential oil, 70% dark chocolate and salt)
Portion 95 g - $ 6.50 + TX
Sweet and Salty Roasted Nut Mix
(Cashews, walnuts, almonds, pecans, shredded coconut, maple syrup, pumpkin seeds, chocolate puffed quinoa, olive oil, fine salt and allspice)
55 g - $3.50 + TX
Muffin mix
(Gluten-free all-purpose flour (brown rice, buckwheat, amaranth, quinoa, tapioca starch, ground flaxseed, baking powder, guar gum, xanthan gum), 70% chocolate, almond flour, hazelnut flour, coconut sugar, MJ rice protein, chia seeds, baking powder, iodized salt)
21.00 + TX
Avocado-choco Mousse 
(Avocados, raw cacao, maple syrup, carob, salt, chili powder, lemon essential oil)
50 g - $ 4.50 + TX
Storage 10 days
Triple chocolate and walnut brownie
(Chocolate, almond flour, maple syrup, coconut butter/oil, chia seeds, cocoa, maca powder, walnuts, chocolate, carob, vanilla extract and salt)
75 g - $3.75 + TX
Caramel Jar of dates
(Soy milk, dates and coconut sugar)
100 g - $4.75 + TX